BCW- a community based firm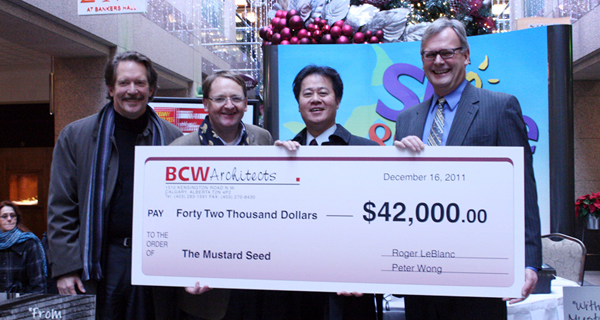 On December 11, 2011.  BCW Architects – Roger LeBlanc, Peter Wong and Project Manager Jeff Hickaway presented the Mustard Seed Foundation's Interim CEO,  Aart Shuurman Hess with a cheque in the amount of $42,000 to assist their capital building campaign. The presentation was made at the 10th Annual Mustard Seed Shine-a-thon fundraising event held on the main floor of Bankers Hall and Broadcast live on radio by 88.9 Shine FM.
Over the years the Mustard Seed has grown in leaps and bounds and is one of the most respected organizations in Calgary and Canada for assisting the less fortunate and homeless in their quest to re-enter the community as fully participating and contributing members.
During 2007-2008 at the time of the 'hot' economic climate in Alberta, BCW was fortunate to have participated in early discussions with the Mustard Seed Foundation to develop a concept for a large apartment building to help the homeless situation. At that time rents were astronomically high; workers attracted to Calgary were filling numerous job vacancies only to find out that they could not afford or even find housing. People working minimum wage service jobs, labourers and newly single people were just some of those affected by the dire housing situation. In response, a concept was developed for a 400 unit, 33 story affordable housing tower by the Mustard Seed.
As we all know the economy faltered, the housing situation changed and while the concept of an affordable housing project did not change, both the scope and size of the project did. Eventually a new idea for the design of a 224 unit affordable housing project, consisting of mainly studio and one bedroom units was conceived. This new concept was a reaction to the times which much better reflected the economy and the situation of the new decade. Working drawings and details were completed, and public and private funding put in place in 2011. The project is now under construction.
By the summer of 2013 residents living in the building will have a warm, comfortable place to call 'home', complete with all the programming, counseling, training and support services that they require to assist their transition back into society.
We at BCW are pleased to have been part of the team to develop this most worthwhile project for our City. This is just another example of how the BCW team endeavors to create worthwhile architecture in our community.
For more information or to donate please go to http://www.theseed.ca/